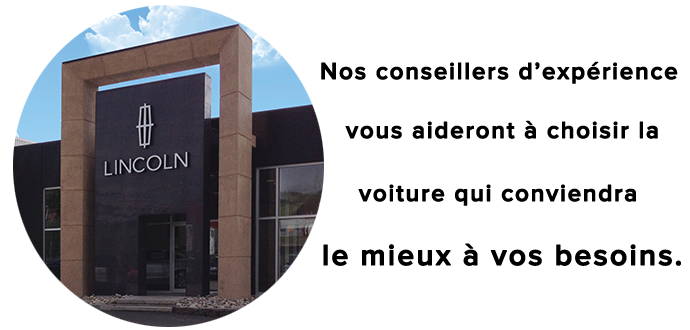 Your new Lincoln is waiting for you in Beauceville!
There is just one name to remember if you want to buy a Lincoln in the Chaudière-Appalaches region: Beauce Auto 2000 in Beauceville!
Welcome to Beauce Auto, your Lincoln dealership in Beauceville near Vallée-Jonction and Ste-Marie in the Chaudières-Appalaches. If you are looking for a 2017-2018 Lincoln and you live near Ste-Justine and St-Joseph-de-Beauce, we have just the thing for you! Our experienced associates will help you choose the car that best suits your needs, whether it is a new vehicle or a used Lincoln!
We are a member of Groupe Couture, which is made up of 9 dealerships that are found throughout the province of Quebec and who represent 12 different brands. We are the only Lincoln dealership near St-Georges-de-Beauce, Ste-Justine and in the whole Chaudières-Appalaches region. Come in to see us today to choose a new vehicle or even a used model from among our inventory of pre-owned cars that are all offered at the best prices!
An extensive choice of new vehicles for all tastes and all budgets
We have the whole range of high-end vehicles that you might dream of! So, you can choose from the MKS, Continental or MKZ, each one shinier than the last. If you prefer to opt for one of our utility vehicles, you have lots to choose from: a new MKT, a MKC or a new MKX? Or maybe you might like to spring for our luxurious Lincoln Navigator? Come and take a peek at our extensive inventory of new vehicles from your Lincoln dealership near St-Georges-de-Beauce!
A lot of amenities to better serve you
Your Lincoln dealership in Beauceville near Vallée-Jonction and St-Joseph-de-Beauce offers you a number of services that will help you make your purchase. As well as our team of experienced advisors who will tell you all about the latest Lincoln promotions, you will find that we have specialists who will offer you the best Lincoln financing plan to fit your budget!
Our service department will provide you with a welcome that is second-to-none, and you will deal with our qualified mechanics who know the full line of Lincoln vehicles inside and out. Contact us today to set up a service appointment, whether you need regular maintenance or a repair!
So, in order to get the best choice of Lincoln vehicles and benefit from exceptional service throughout the purchase process, head over to see us at Beauce Auto 2000, your Lincoln dealership in Beauceville in the region of Ste-Marie!
Contact Us